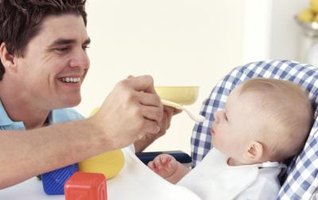 Babies are considered infants from birth to one year of age. Infants require a diet that is dense in calories and fat. Breast milk provides all the fat and nutrients an infant needs during the first 4 to 6 months of life. Formula provides a baby of the same age with most of the needed fat and nutrients. At about four to six months, infants can begin to eat solid food. Babies should get around half of their daily calories from fat, until they reach 2 years of age, according to the American Academy of Pediatric's website, HealthyChildren.org. Fat, which helps infants digest vitamins D, A, E and K, also aids in brain function and helps regulate body temperature.
Formula, Cheese and Yogurt
Breast milk is the best source of fat for an infant. If a mother is unable to breastfeed, a baby formula is recommended. Whole milk should be started after one year of age. Whole milk, yogurt and cheese are some of the best high-fat foods to feed a baby. When milk and cheese are cultured, the lactose and proteins are broken down and limited. This makes it easier to digest. Infants can begin eating whole milk and yogurt at around seven months. Cheese can be started between eight and nine months.
Avocados
Avocados are an excellent source of fat for infants. Avocados have been called one of nature's perfect foods since they contain so many nutrients and fat. They contain folate, vitamins B, A, C and E, fiber, potassium and iron. They are full of good fats essential for a baby's brain development. Try mashing them with bananas, in applesauce or mix with cereal. They don't need to be cooked. They can be eaten right from the shell.
Oils for Baby
Flax oil is a high-fat food that is easy for babies to digest and offers many benefits. Flax contains omega 3 oils, lingans and fiber. Flax can be given in the form of flax meal or flax oil. Limit flax to one tablespoon a day. Add either form to baked goods, cereal and vegetables or sprinkle it on yogurt. Coconut oil and coconut milk are great high-fat alternatives for infants. Use coconut milk in cereal, bake vegetables or fruit in it or add it to baked goods. Coconut oil is healthy oil for providing fat. It can be heated to a high temperature and is good for cooking. Be sure to get virgin coconut oil as commercial ones are bleached when processed.
Reference:
http://www.ehow.com/